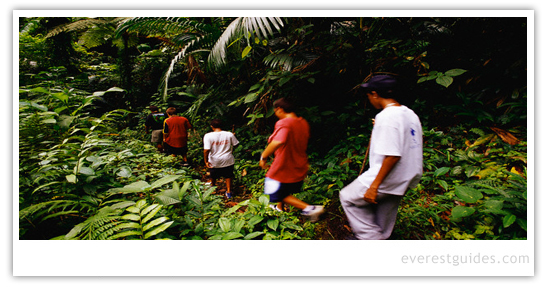 one of the most exciting wildlife reserves in the World, lies 75 miles Southwest(165Km) of Kathmandu. Chitwan is now one of the finest protected forests & dense grassland regions in Asia and the home of magnificent and rare wildlife. Among the 14 national parks and wildlife reserves in the Kingdom of Nepal, The Royal Chitwan National Park (932 sq. km) is the most popular safari destination. More than 43 species of animals are still found in Chitwan. The endangered one-horned rhino, Royal Bengal tiger,Gharia crocodiles, four-horned antelope, striped hyena, and the gangetic dolphin are the main attractions here.
The park is very closed to Kathmandu, which is easily accessible (only 165km) by bus and air. Bharatpur airport adjoins the park is a 25 minutes away (there are daily flights from Kathmandu). Many adventures also intent to go down by raft. However you go, a jungle safari is an experience you will remember for a long time.
Chitwan Jungle Safari tour that will be 2 nights 3 days offers you high quality hotel/lodge/ Tented camp accommodation, food and other services.

Our Services :
Elephant Safari: Totally fearless of any other animals, the elephants are the traditional means exploring the jungle and wildlife Known as the Lord of the jungle, they are the best means to watch tiger, rhino, deer, sloth bear and other wildlife.
Bird Watching : Before breakfast, in the morning our guide will take you up, he conduct you watching varieties of birds.
Canoe Rides: Reserve one hour for canoe ride. Our canoe ride relaxes you and will enable you to view the water inhabitants such as fish, crocodiles, birds & dear.
Nature Walk or Jungle Walk: Our jungle guide takes you to view deer, rhino, wild bear, boar, Royal Bengal tiger and other wildlife.
Colourful Tharu Village: Experience the culture and traditional of the Tharu people. These Terai people live near the jungle and wildlife for centuries. At night the culture programme will be held and you can see the traditional dance of Tharu.
Tharu Stick Dance: A melodious tribal dance performed by Tharu men to the rhythms of drums and with clashing of stick embodies and projects how to drive away Rhino and other wild animals from human habitat. Once the driving away of animals is achieved, the dance turns into joyful. After dinner at the hotel /lodge/tented camp you can watch Tharu stick dance. We will arrange dance for your enjoyment.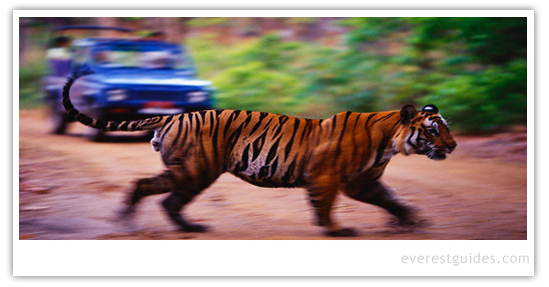 Jungle Drive: The visitor stay with us more than 3 nights, who can go into the jungle's park to view birds and animals by driving a jeep . Our jungle drive in the jeep will take you more than 20km.inside the jungle from Rapti river to the Lama lake.
What to bring along with Tourists?
Binoculars, Camera with film rolls, flashlight, Sunglasses, comfortable shoes for walking, Sweater and jackets for winter (Nov/Feb.) ,the rest of months cotton clothes for the evening. Raincoat is recommend during rainy season. Cost :